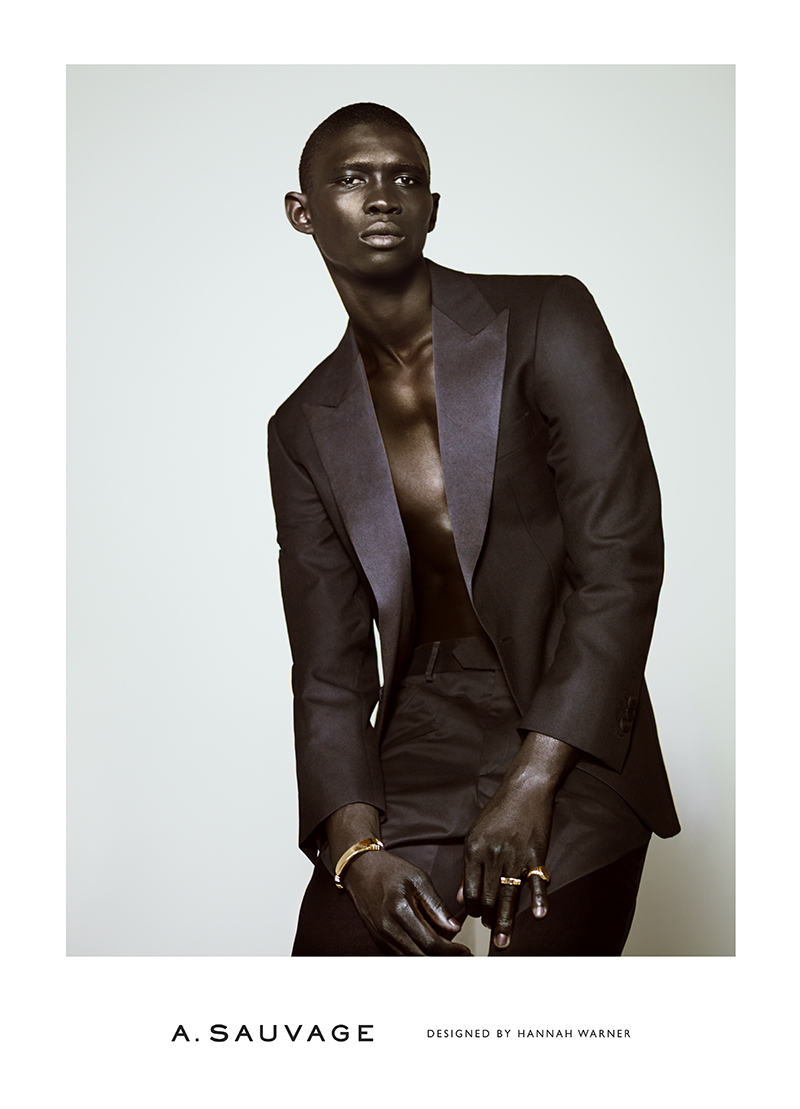 A. SAUVAGE
THE HOUSE OF A.SAUVAGE IS PLEASED TO ANNOUNCE THEIR COLLABORATION WITH ICONIC LONDON JEWELLERY DESIGNER HANNAH WARNER.
BRITISH DESIGNER HANNAH WARNER CURATES A SERIES OF EXCLUSIVE JEWELLERY DESIGNS FOR BOTH MEN AND WOMEN. THE CLEAN AND CONTEMPORARY COLLECTION WHICH COMPRISES OF SIX WELL CONSIDERED DESIGNS INCLUDE; A SIGNET RING, TIE PIN AND BANGLE, EACH WITH AN IRREVERENT EDGE. IN LINE WITH A.SAUVAGE'S PHILOSOPHY, 'DRESS EASY' (D.E.), THE RANGE IS DESIGNED TO ADAPT FROM DAY TO NIGHT AND TO BE SUITABLE FOR BOTH MEN AND WOMEN.
THE DESIGNER'S REPETITIVE USE OF ELEGANTLY RAISED, SIMPLE MARKS TO ACCENTUATE THE POLISHED GOLD SURFACES OF THE MONEY CLIP AND THE EDGES OF THE FLAT FITTED CUFF AND RING, ALLOWING HER TO SHOWCASE HER INITIAL INSPIRATION OF SCARIFICATION. GIVING A SUBTLE NOD TO SAUVAGE'S GHANAIAN HERITAGE AND WARNER'S PASSION FOR AFRICAN TRIBAL ART.
"I'VE ALWAYS BEEN FASCINATED WITH WEST AFRICAN CULTURE AND THEIR UNIQUE TRIBAL TRADITIONS SUCH AS SCARIFICATION. I LOVED THE IDEA THAT IT WAS USED TO TRANSMIT MESSAGES ABOUT IDENTITY OR PARTICULAR MILESTONES IN A PERSON'S LIFE. THEY MAKE YOU INDIVIDUAL, BUT STILL PART OF A COLLECTIVE GROUP." - HANNAH WARNER.
THE COLLECTION WILL BE AVAILABLE IN STORES FROM DECEMBER AND WILL BE AVAILABLE FOR PRE-ORDER AT ASAUVAGE.COM.